Technology Skills in the CTE Classroom
January 16, 2021 3:30 pm CST - May 4, 2021 4:30 pm CST
Cost: $80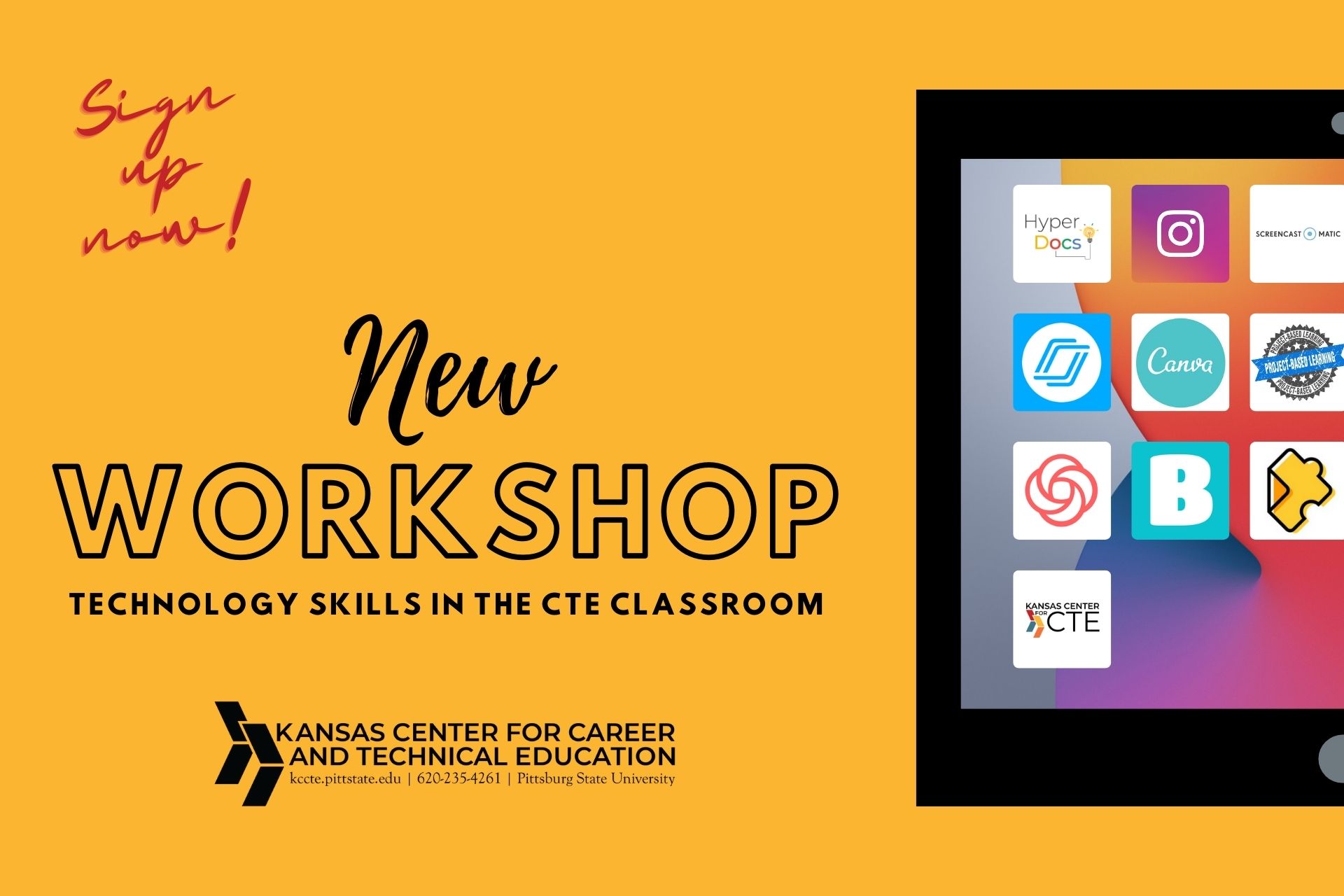 ---
7 Sessions
01/26/2021 3:30 pm CST - 01/26/2021 4:30 pm CST
02/09/2021 3:30 pm CST - 02/09/2021 4:30 pm CST
02/23/2021 3:30 pm CST - 02/23/2021 4:30 pm CST
03/09/2021 3:30 pm CST - 03/09/2021 4:30 pm CST
04/06/2021 3:30 pm CST - 04/06/2021 4:30 pm CST
04/20/2021 3:30 pm CST - 04/20/2021 4:30 pm CST
05/04/2021 3:30 pm CST - 05/04/2021 4:30 pm CST
Details
CTE TEACHERS ARE USING TECHNOLOGY IN THEIR CLASSROOM MORE NOW THAN EVER BEFORE!!
Join us for a VIRTUAL SERIES of seven sessions that include veteran FCS teachers who are using technology in their in-person, hybrid or online classrooms.
This session is NOT limited to FCS teachers – all content areas can benefit!
Topics include:
Create lab demonstrations for virtual learning.
Learn from other teachers who are using Nearpod, Edpuzzle, Canva, Screen-cast-o-matic, Loom, and Blooklet, and Hyperdocs.
Participate in discussions regarding how to incorporate social media into your program.
Hear ideas regarding how to successfully implement Project Based Learning.
These interactive sessions will allow you to learn in a hands-on approach. There will be time to collaborate and ask questions as we all work through this unpredictable year.
**REGISTRATION IS OPEN FOR FIRST 25**
Workshop Series Fee = $80.00
Workshop Dates:
Session I

   Tuesday, January 26  (3:30 – 4:30 pm each)


Session II 

  Tuesday, February 9

Session III 

Tuesday, February 23

Session IV 

Tuesday, March 9

Session V 

Tuesday, April 6

Session VI 

Tuesday, April 20

Session VII 

Tuesday, May 4
Session I
LAB DEMONSTRATION IN THE VIRTUAL CLASSROOM by Janet Holden (St. Mary's Colgan, Pittsburg)

Session II
NEARPOD – PRE-RECORD LECTURES/EdPUZZLE  by Megan O'Boyle (DeSoto HS)
Session III
USING CANVA TO ADVERTISE/PROMOTE YOUR PROGRAM/ INSTRGRAM by Cassy Dalbom (Belle Plaine HS)
Session IV
PROJECT BASED LEARNING –  Providing Feedback to students using 'technology skills' by Emily Schmidt (Olathe West HS)

Session V
SCREEN-CAST-O-MATIC/LOOM by Janet Holdern (St. Mary's Colgan, Pittsburg)
Session VI
BLOOKLET- INTERACTIVE GAME – MIX QUIZZLET & KAHOOT & GIMKIT by Caitlin Calloway (Crest MS/HS)
Session VII
HYPERDOCS by Emily Schmidt (Olathe West HS)
---
Presenter Details
Cassy Dalbom
Cassy Dalbom is in her ninth year of teaching the Human Services pathway at Belle Plaine High School and she is involved in many professional organizations. She is the FCCLA sponsor and enjoys teaching students real world skills. She received both her bachelor and master degrees from PSU. Go Gorillas!
Erica McIntyre
Erica McIntyre is a 3rd year teacher at Olathe West High School, and is teach Baking & Pastry. She graduated from the Culinary Institute of America in Hyde Park, NY, with a bachelor degree in Culinary Arts and Restaurant Management. After college, she moved to Napa, CA, and worked in various restaurants, including the world-famous restaurant, The French Laundry. Erica always wanted to be a teacher but had so many incredible opportunities along the way. A few years ago, she decided to go back to get a teaching credential and graduated with a credential in FACS from Sacramento State University. 
Janet Holden
Janet Holden is in her 9th year teaching Family and Consumer Sciences, currently at St. Mary's Colgan High School in Pittsburg. Janet's current role includes serving as the "Community Coordinator" which is a CTE administrative role, where she organizes and facilitates integration of FCS skills school-wide.
Megan O'Boyle
Megan O'Boyle is in her 8th year of teaching and currently teaches at DeSoto High School. This year she is teaching Career and Life Planning, Family Studies and Career and Community Connections. Megan has received both her bachelor and master degrees from Pittsburg State University.
Emily Schmidt
Emily Schmidt is a Family and Consumer Science teacher at Olathe West High School. She holds a BS in FACS Education from Pittsburg State – Go-Rillas, and a MA in Curriculum and Instruction from University of Central Missouri. Emily currently teaches in the Human Services Pathway at Olathe West High School. She and her husband, Mark, reside in Shawnee with their sons, Carter and Bennett.
Caitlin Callaway
Caitlin Callaway is in her 7th year of teaching. She teaches courses from the Human Services Pathway, Early Childhood Pathway and Restaurant and Food Management Pathway. She received her bachelor and master degrees from PSU.