Health Science Pathway Series
VIRTUAL
September 16, 2021 3:30 pm CST - December 2, 2021 4:30 pm CST
Cost: $60.00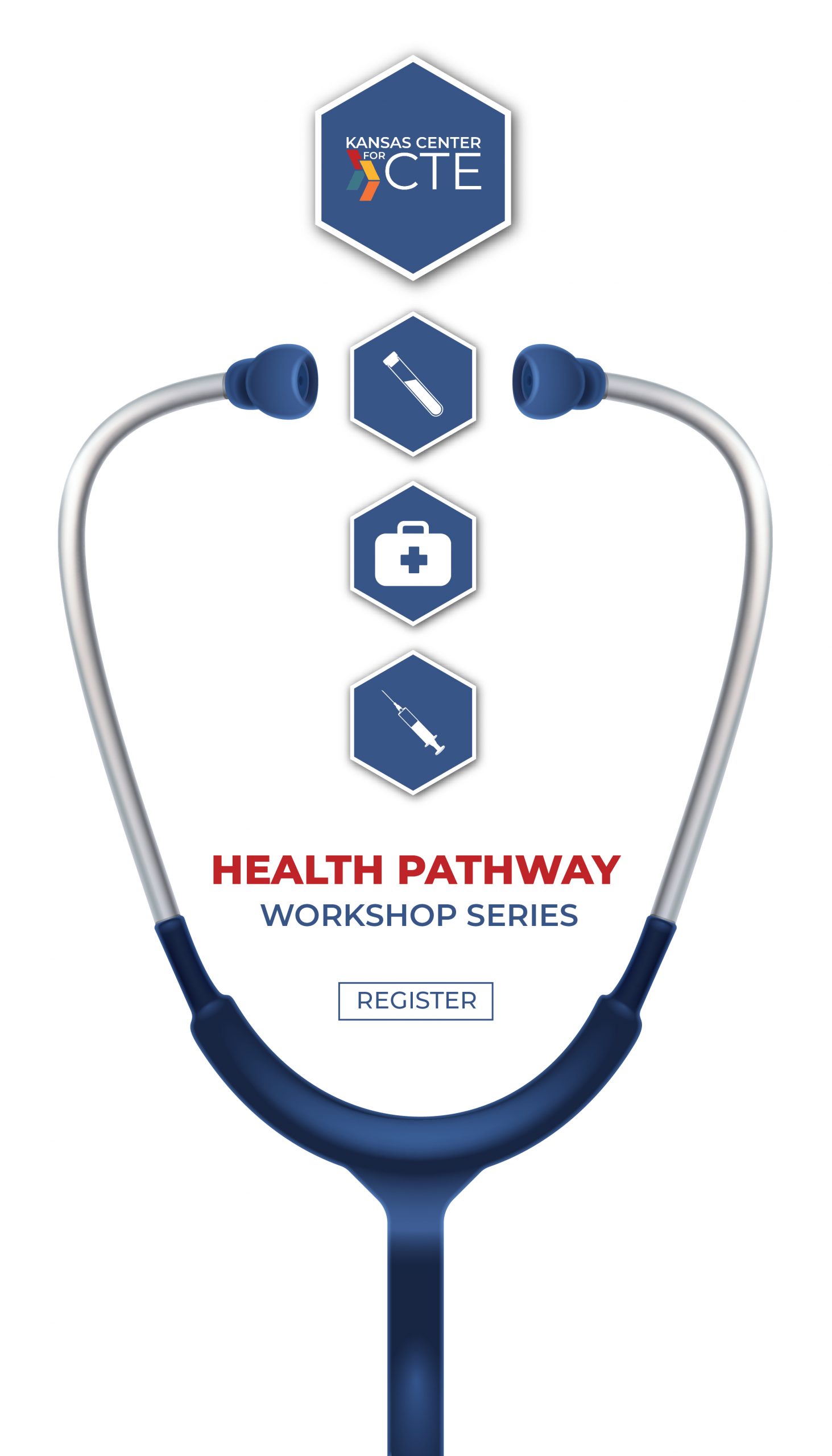 ---
6 Sessions
09/16/2021 3:30 pm CST - 09/16/2021 4:30 pm CST
10/07/2021 3:30 pm CST - 10/07/2021 4:30 pm CST
10/21/2021 3:30 pm CST - 10/21/2021 4:30 pm CST
11/04/2021 3:30 pm CST - 11/04/2021 4:30 pm CST
11/18/2021 3:30 pm CST - 11/18/2021 4:30 pm CST
12/02/2021 3:30 pm CST - 12/02/2021 4:30 pm CST
Details
**REGISTRATION NOW OPEN FOR THIS VIRTUAL SERIES**
Virtual Workshop Series Fee = $60.00
SESSION 1 (SEPT. 16)/Connie Gandy
It's Really THAT Simple? Connecting Skills Needed in CTSO Events to Your Classroom 

Your classroom should be a place of excitement and anticipation! Students want, and expect, to learn valuable skills in your classroom that will prepare them for future pursuits. Connecting students to skills used in CTSO events offers you guidance, creates excitement for your classroom and provides students with a sense of purpose that generates relevant and immediate results.
SESSION 2 (OCT. 7)/Kevin Stalsberg
Out with the old, in with the new: Updating pre-hospital assessment and management of spine injured patients 

Recently there have been changes to the assessment, treatment and transport of spine injured patients. In this workshop, the focus will be on updating the skills health science teachers are presenting to their students and presenting some ideas on how to embed these techniques into the classroom.
SESSION 3 (OCT. 21)/Laura Benscheidt
INFECTION! – Don't pass it on! 

The focus for this workshop is to improve the technical skills of health science educators with focus on infection control and handwashing. Current CDC guidelines will be presented as well as tips for educators to teach these technical skills in their own classroom. We will incorporate technology into our lesson as well! Come join us to discuss "INFECTION! – Don't pass it on!"
SESSION 4 (NOV. 4)/Zulma Perez
Putting the REAL in real world learning: Using standardized patients and simulation to augment learning in the health science pathway  Standardize patient simulation involves training individuals to portray patients in effort to allow students to practice, be exposed and become comfortable will health care skills, communication and team-work. In this session we will discuss the reasons to utilize standardize patients and simulation in a medical/health science classroom. We will learn how to prepare a standardize patient scenario, and when and how to use them.

SESSION 5 (NOV. 18)/Kevin Stalsberg
Teaching Soft Skills through Technical Skills  Based on research from the Urban Education Research Center there is a discrepancy between the soft skills possessed by young professionals and the skills they need. The health science pathway has numerous technical skills that can be used to place emphasis on these soft skills. This workshop will empower educators to embed the soft skills while teaching technical skills.
SESSION 6 (DEC. 2)/Jennifer Jones & Ashley Podschun
Coaching Employability Skills in Health Science  This session will discuss how to prepare students for the workforce. All employers want students to have "soft skills." The workshop will facilitate a discussion on incorporating activities throughout your curriculum to increase cooperation, communication, and other skills to encourage students' development of employability traits. We'll also discuss how to convey this in cover letters, resumes, and the interview process.

---
Presenter Details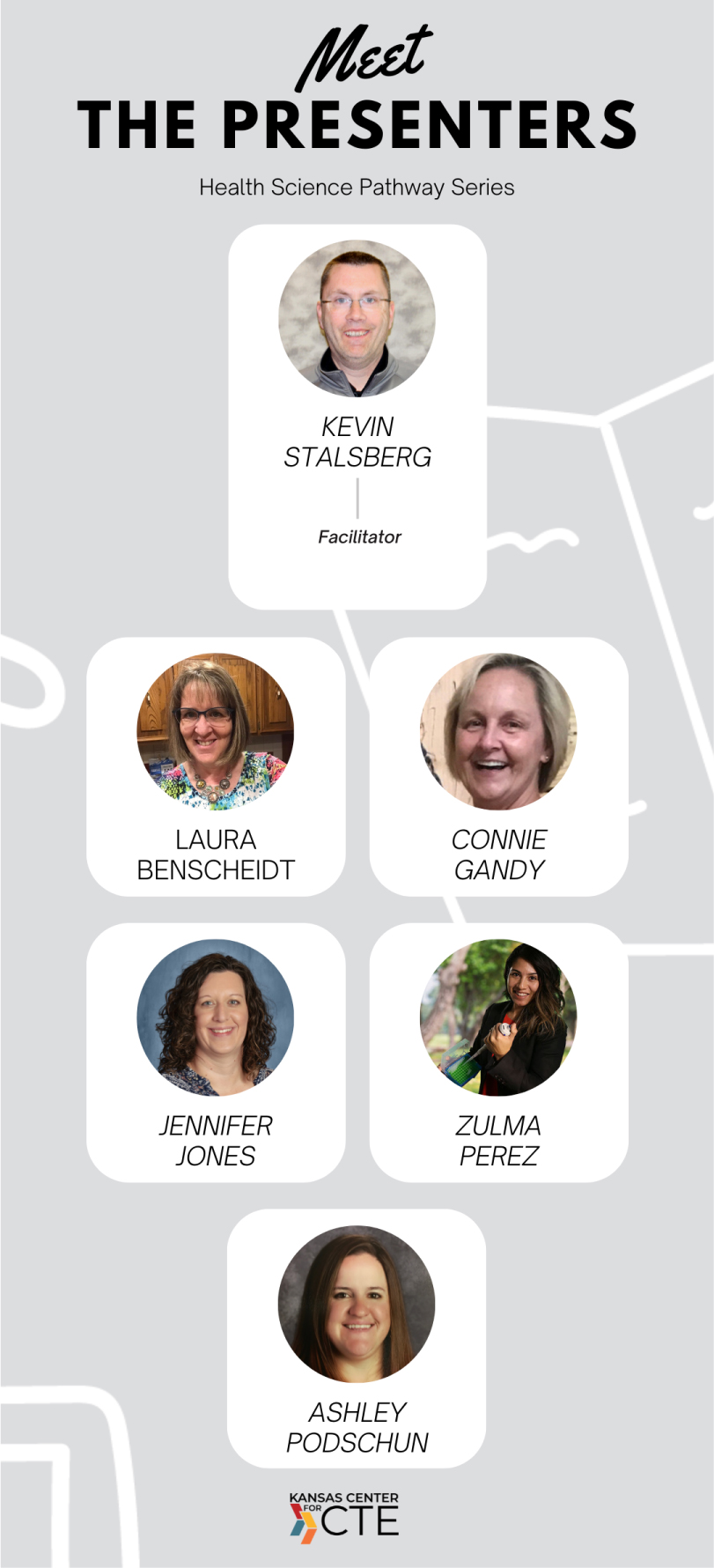 KEVIN STALSBERG – FACILITATOR has a diverse number of athletic training experiences ranging from the collegiate setting working with Division I and III universities and secondary school settings. Most recently, Kevin teaches sports medicine and health science in the Shawnee Mission School District in Kansas, where he is in his fourth year as an educator. In addition, he continues to have the opportunity to work with the Big 12, as a football medical observer.
LAURA BENSCHEIDT, BSN, MSE has been teaching healthcare science for 13 years. Prior to teaching she worked full time in many different capacities as a registered nurse, from labor and delivery, geriatrics, public health, and administration to name a few. Her passion lies in teaching the next generation basic healthcare knowledge.
CONNIE GANDY has a broad range of experiences as an instructor in the Health Science classroom which includes teaching introductory, technical and application level courses. She has served on various pathway development committees with KSDE representatives, served as president of the Kansas Health Science Educators Association (now KNRS) and HOSA Advisor for the Shawnee Mission School District Chapter. She embraces and recognizes the value of preparing students for placement in work-based learning experiences and CTSO events, utilizing those interests to motivate students in the classroom.
JENNIFER JONES  is in her 14th year teaching Science and Health Science at her alma mater, Dodge City High School. Jennifer earned her Bachelor's Degree in Athletic Training from the University of Nebraska-Lincoln then accepted a graduate assistantship at the University of Missouri-Columbia. Following graduation with her Master's Degree in Health Education and Promotion, Jennifer worked as a certified athletic trainer in the hospital, industrial, and school settings. She returned to Dodge City in the Fall of 2008 and completed the Transition to Teach program through Fort Hays State University. Jennifer has been involved in developing science and health science curriculum, serving on various committees, and has been leading the Science Department at DCHS for the last three years.
ZULMA PEREZ discovered her passion for STEM education during her undergraduate years at University of California Berkeley. After graduating in 2001 with a B.S. in Molecular Environmental Biology, she worked as a Health Educator and Clinic Supervisor for a School Based Health Center in California. She earned a Masters of Science in Interdisciplinary Biomedical Sciences from the University of Kansas School of Medicine. Zulma instructed and coordinated the KCKPS Biotechnology classes, and was integral in its expansion into a district wide Biotechnology Diploma+ Program. She is a teacher Zulma is the recipient of the WiSTEMM Educator Award and has a desire to make STEM education accessible to underrepresented and immigrant youth. She is currently in her 3rd year at Shawnee Mission School District teaching Medical Science and Biotechnology.
ASHLEY PODSCHUN is in her 6th year teaching Health Science at Dodge City High School. Ashley earned her bachelor's degree in Athletic Training from Washburn University. She worked as a full-time athletic trainer at Dodge City Community College for five years. Ashley then moved into public education through the Transition to Teach Program from Fort Hays State University, where she received her teaching license and then obtained her Master's of Science in Education in 2019. Ashley is the head coach for Volleyball and Softball at Dodge City High School and has helped revamp the new Health Science curriculum.