Health Science Pathway Series
VIRTUAL
January 20, 2022 3:30 pm CST - May 5, 2022 4:30 pm CST
Cost: $60.00
---
6 Sessions
01/20/2022 3:30 pm CST - 01/20/2022 4:30 pm CST
02/17/2022 3:30 pm CST - 02/17/2022 4:30 pm CST
03/03/2022 3:30 pm CST - 03/03/2022 4:30 pm CST
04/07/2022 3:30 pm CST - 04/07/2022 4:30 pm CST
04/21/2022 3:30 pm CST - 04/21/2022 4:30 pm CST
05/05/2022 3:30 pm CST - 05/05/2022 4:30 pm CST
Details
**REGISTRATION NOW OPEN FOR THIS VIRTUAL SERIES**
Virtual Workshop Series Fee = $60.00
SESSION 1 (THURS, JAN. 20)/Andrew Frye, Ed. D.
Search strategies for the lost health science teacher 

From boolean operators to databases, this workshop covers tips to help health science students and educators conduct better research. Tips on how to construct a search strategy, navigate various databases, and what to do when a search is too narrow or too broad will be covered.
SESSION 2 (THURS, FEB. 17)/Lissa Bartle, RN
"Hey Teacher, What's My Grade?" Have you heard about the "new" trend in grading practices? It's called standards-based grading (SBG) or Have you heard about the "new" trend in grading practices? It's called standards-based grading (SBG) requitable grading (EG) and will make your grading life easier. In this workshop, we will talk about grading challenges and SBG and EG can work for you and benefit your students. .
SESSION 3 (THURS, MARCH 3)/Connie Gandy
"I Can't Decide If An Electronic Portfolio is Right For My Class!" 

Connecting your students to WBL is an important part of preparing them for their next steps after high school graduation. Helping them market themselves is an extremely important piece of that preparation. If you've considered implementing electronic portfolios as part of your curriculum, this workshop will provide you with a couple of different online options. We'll walk through a general template of the key concepts that will help market your students and use the remainder of the time as a roundtable discussion in sharing thoughts and ideas that we can all use in helping our students move successfully forward!
SESSION 4 (THURS, APRIL 7)/Roxanne Jones RN, BSN, MA
Pre-Clinical Internships for CNA students: Avoiding "shock and awe"  This session will showcase some options for expanding the Kansas CNA Curriculum. These options will introduce the CNA student to a variety of health care paths of which they can take when they complete their certification process.

SESSION 5 (THURS, APRIL 21)/MaryAlice Kelly BSN, RN
veinous puncture – needles, safety and location…Oh, my! This session will focus on the teaching and use of injectables. Locations of the injections and needle safety will be an additional component.
SESSION 6 (THURS, MAY 5)/Kevin Stalsberg EdS, LAT, ATC
Making learning REAL with project based and problem based learning Project based and problem based learning create authentic experiential learning to occur within real world. We want to explore how we use these tools and implement collaboration as a learning opportunity for students. At the end of this workshop, participants will develop lessons that can be incorporated in the classrooms immediately.
---
Presenter Details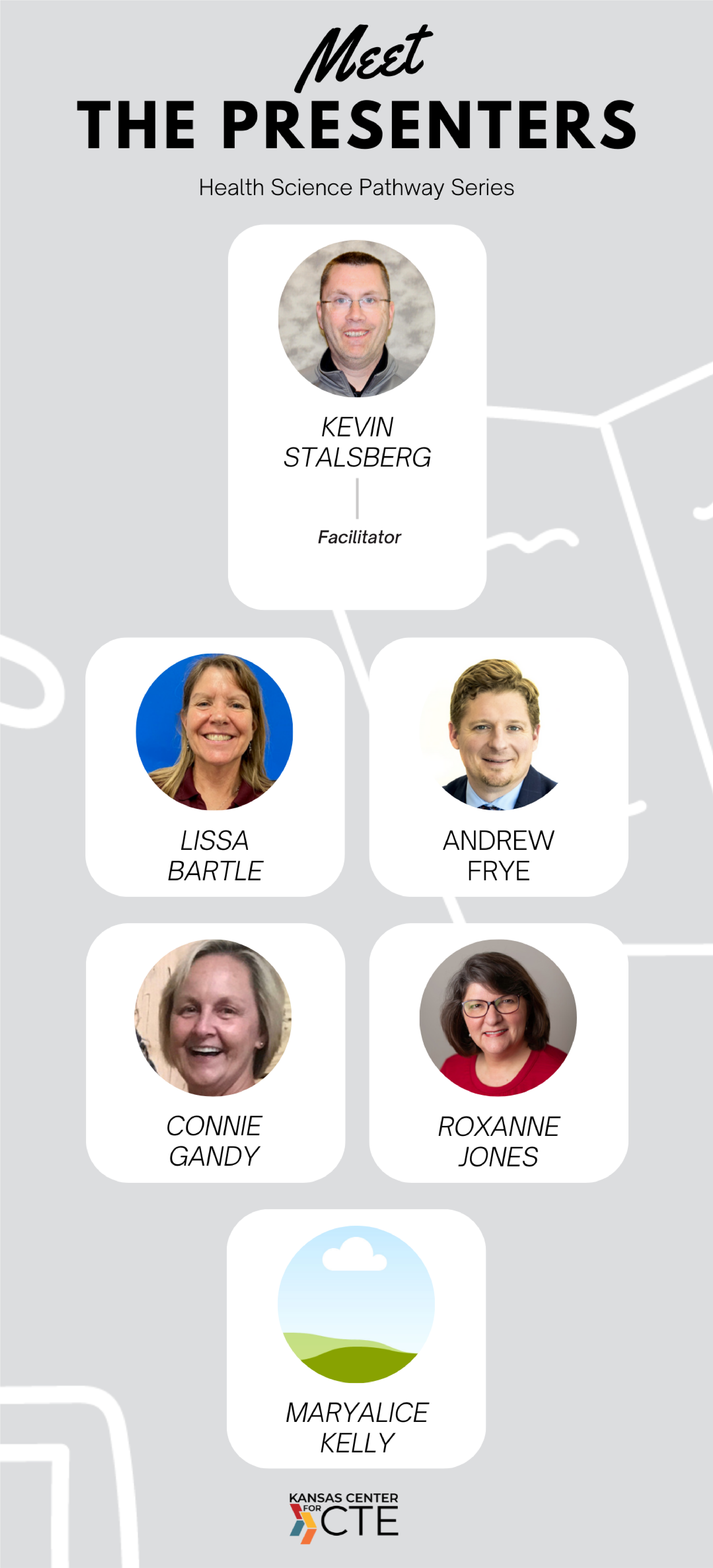 KEVIN STALSBERG – FACILITATOR has a diverse number of athletic training experiences ranging from the collegiate setting working with Division I and III universities and secondary school settings. Most recently, Kevin teaches sports medicine and health science in the Shawnee Mission School District in Kansas, where he is in his fourth year as an educator. In addition, he continues to have the opportunity to work with the Big 12, as a football medical observer.
ANDREW FRYE teaches ​English and research to 11th and 12th-grade students who are enrolled in one of the Shawnee Mission School District's Signature Programs, which include Biotechnology, Culinary Arts, Engineering, Game Design & Animation, Project Blue Eagle, and Medical Science. Students participate in ongoing activities aligned to the 11th and 12th grade Kansas English Language Arts standards that also enhance content linked directly to their respective Signature Program.
LISSA BARTLE  began as a health sciences teacher in 2000 and have taught in 3 schools in 3 different states. While teaching in Colorado was introduced to Standards Based Grading and have since been using the concepts in her own grading practices. This year her school administration is looking into Equitable Grading, which aligns itself well with the standards based grading system.
CONNIE GANDY has a broad range of experiences as an instructor in the Health Science classroom which includes teaching introductory, technical and application level courses. She has served on various pathway development committees with KSDE representatives, served as president of the Kansas Health Science Educators Association (now KNRS) and HOSA Advisor for the Shawnee Mission School District Chapter. She embraces and recognizes the value of preparing students for placement in work-based learning experiences and CTSO events, utilizing those interests to motivate students in the classroom.
ROXANNE JONES is a Registered Nurse with a Masters in Gerontology and Health Services Management. She has held a variety of health care positions in the past 40 years, including the long term care setting. She is currently the CNA Instructor for the Shawnee Mission School District as well as Adjunct Faculty at Johnson County Community College.
MARYALICE KELLY is a mother of 4 and been married for 32 years. A licensed RN for 35 yrs. Her career began as a Critical Care RN specializing in Cardiac Care. After her 4th child was born she began to work in the school setting. For the past 16 years, MaryAlice worked in both Missouri and Kansas school districts. She has happily landed at the best high school in the Shawnee Mission School District!