Adobe Photoshop – Intermediate Level – VIRTUAL – Teachers
November 5, 2020 @ 4:00 pm - 6:00 pm
Cost: $70.00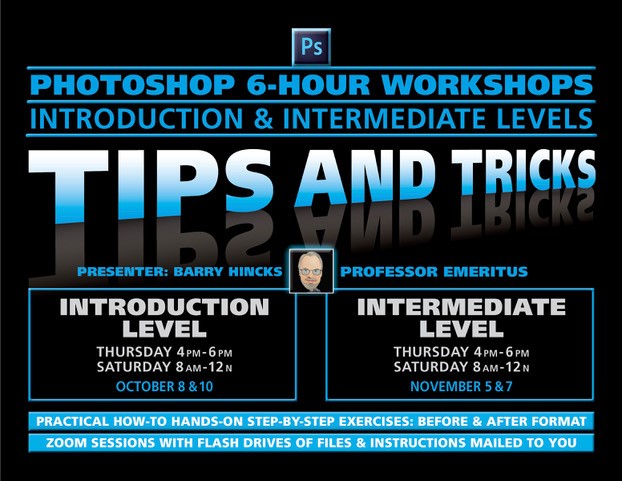 ---
Description
**THIS SIX-HOUR WORKSHOP WILL TAKE PLACE THURSDAY (4:00 – 6:00 PM) AND SATURDAY (8:00 – 12 NOON)**
Intermediate Level (November 5 & 7):
• For users with a basic introductory level familiarity.
• For frequent users wanting a quick review of some basics before moving on.
• For frequent users wanting useful how-to tips & tricks to choose from.
• For frequent users wanting an in-depth study of an application.
Presenter/Bio:
Barry Hincks just became Professor Emeritus at Johnson County Community College in Overland Park, Kansas. He created the Desktop Publishing Department there and served as its chair. Barry previously was Design Manager in charge of the Creative Retail Environment at Hallmark Cards Inc. in Kansas City. Before that he chaired the Graphic Design Department at the University of Cincinnati. Barry received his MFA degree in Graphic Design, and taught senior level students, at the Rochester Institute of Technology.
Contact information
Tracey Eagon
620-235-6006