Adobe Photoshop, Illustrator & InDesign Tips and Tricks: Level 2 – RESCHEDULED
Johnson County Community College/Regnier Center #374
Overland Park, KS
April 3 @ 8:00 am - April 4 @ 5:00 pm
Cost: $20.00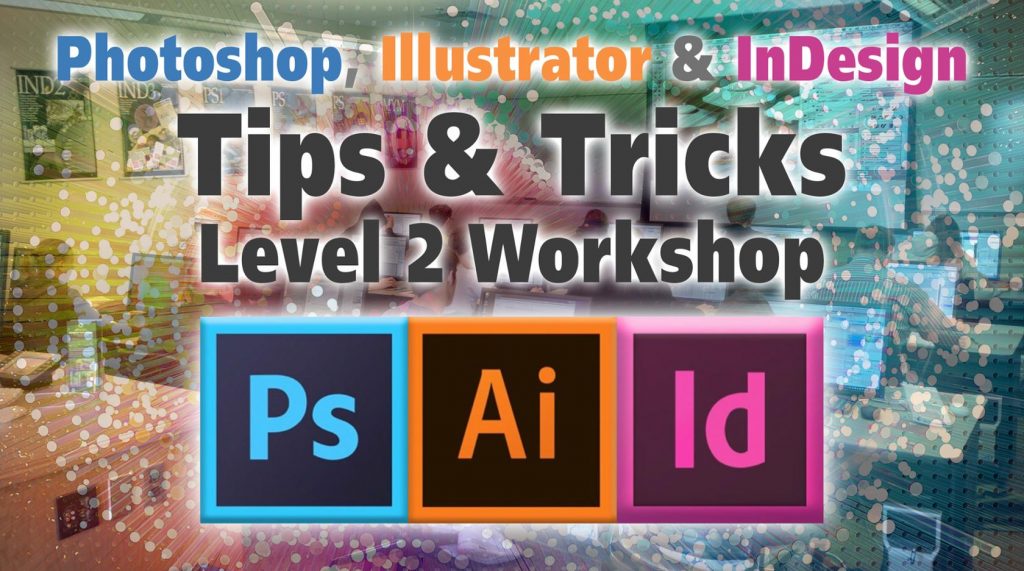 ---
Description
**THIS WORKSHOP HAS BEEN CANCELLED AND WILL BE RESCHEDULED TO ANOTHER DATE. DATE IS STILL PENDING.**
Level 2 Workshop:
In a state-of-the-art dual-platform Mac and Windows classroom/lab, participants will work with a series of carefully constructed, step-by-step tips & tricks exercises which are most appropriate for anyone who has some prior experience working with these software applications. That said, even individuals with considerable experience will also find there are a good number of additional techniques and methods presented to make this course very worthwhile for them. We will move at a pace that is comfortable for all who attend. There will be plenty of time for one-on-one help with all that is presented.
Photoshop explores editing digital photographs in a variety of ways, both for image correction and for creative enhancement.
Illustrator concentrates on drawing symbolic objects and the integration of text. Absolutely no off-computer drawing experience is necessary, but minimal understanding of how to draw Bézine paths with the Pen Tool will be helpful, but not absolutely necessary.
InDesign provides a way to bring Photoshop and Illustrator imagery into multi-page documents. A fascinating array of techniques will be discussed.
****LEVEL 1 WORKSHOP FEBRUARY 28 & 29, 2020 ****
Presenter/Bio:
Professor Barry Hincks has created all of the desktop publishing courses at Johnson County Community College and currently teaches five of them within the Graphic Design Department. Prior to his 25 years at JCCC Barry served as Hallmark Cards' Design Manager for the Creative Retail Environment business unit for 5 years. Before that Barry taught in and chaired the Graphic Design Department at the University of Cincinnati during his 5 year stay there. Following his BA degree from Occidental College near Los Angeles, California, Barry earned his MFA degree from the Rochester Institute of Technology where he was hired during his graduate program as a lecturer to teach photo design to senior level graphic design students. Barry's primary hobbies include travel with his wife Sara, full-time teaching, and photography.
Contact information
Tracey Eagon
620-235-6006